We have spent the last 3 weeks planning and getting ready for Lights On! We are going to teach all of the kids at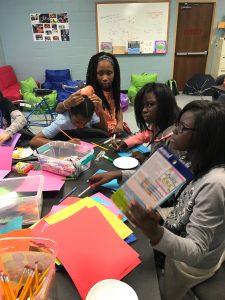 the Club how to do Electric Art. That will be tricky because we will have to teach them a lot of science like how to make a circuit, and different types of circuits. And we will also need to teach them how to use copper tape, and how to solder if they want. We came up with different station ideas that would help little kids and big kids so that no one will get bored. We have the flower station where kids can make cards and a big decoration station. We also are going to have a bracelet station but we are still figuring out how to make bracelets so they work. Also we were going to have a picture frame station but after some of the kids tried to get that to work they decided it would be better to help
kids make light up cork boards instead. Come visit us on Thursday for Lights  On!